Autumn poetry in urdu, ak best way mai hamari website read karin. Jab garmi ke sabz rang dheere-dheere badal kar rangon ki jadoo se bharpur palet mein tabdeel hoti hai, to aik be-misal husn ka rangmanch hamare samne unfold hota hai. Patte, jo ek waqt zindagi ki emerald alamat thay, ab rangon ka aik qayamat bhara symphony ban jatay hain, laal, narangi, peela, aur bhura ban kar, asal mein fitrat ki sab se khoobsurat rangein.
Har patta apni shakh se nazakat se nachta hai, apni raushan nazar asman ki taraf le jata hai, aur jaise hi zameen par aa jata hai, to uska yeh nazakat bhara kooch hota hai. Thandi aur taza hawa giroh ki tarah girayi hue patton ki boo le karata hai, jo fresh pie ki khushboo aur garam, aramdayak sweaters ki madadgar gale se mil kar. Autumn ke patte duniya ko apne jatayil patterns se sajate hain, hamain janglon aur parqon mein aram say sair karne ke liye bulatay hain, jin ke neechay pairon ki halki se siskiyan ek musalsal season ki rah-e-raah ki raazdariyon ki tarah hoti hain.
خزاں کے زرد پتوں کا وہ منظر یا د کرتا ہے
اسے کہنا بہت اس کو نومبر یاد کرتا ہے
"Khizaan ke zard paton ka woh manzar yaad karta hai,
Isay kehna bohat isko November yaad karta hai.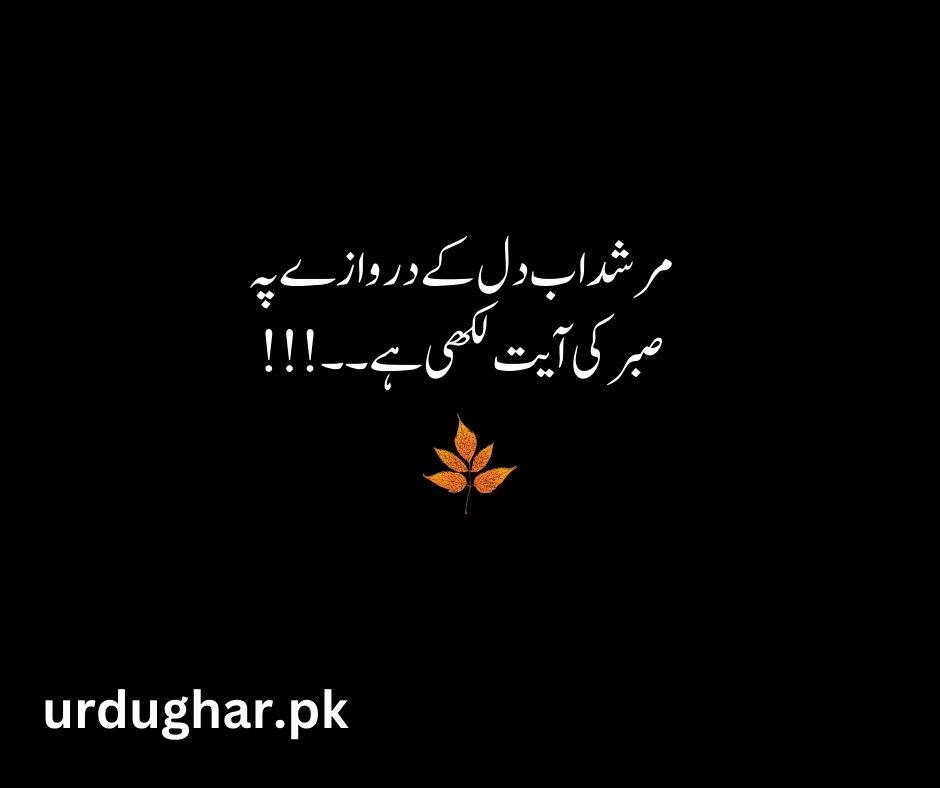 مرشد اب دل کے دروازے پہ
صبر کی آیت لکھی ہے ۔۔
Murshid ab dil ke darwaze pe,
Sabr ki ayat likhi hai…
خزاں کی رت میں بہار لہجہ
بنا کے رکھنا کمال یہ ہے
Khizaan ki raat mein bahaar lahja,
Bana ke rakhna kamaal yeh hai.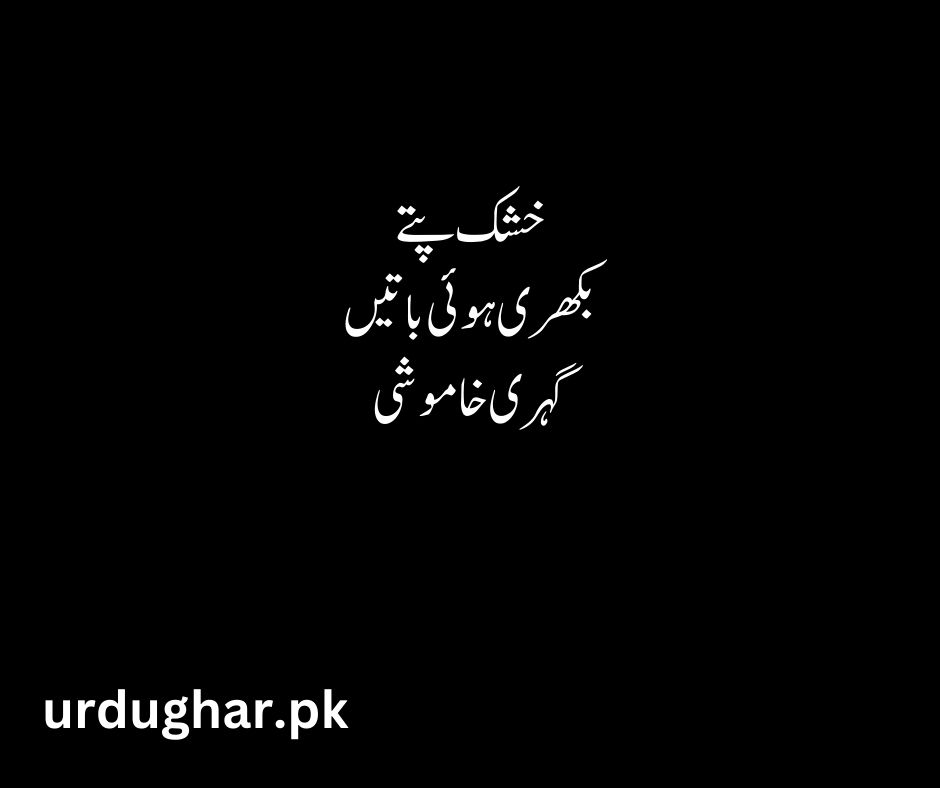 خشک پتے بکھری ہوئی
باتیں گہری خاموشی
Khushk patay bikhray hue,
Baatein gehri khamoshi.
Deep inspiration autumn poetry in urdu
کتنی عارضی تھی یہ رونقیں ،کتنا خاموش اب یہ زمانہ ہے
Kitni aarzi thi yeh raunaqain, kitna khamosh ab yeh zamana hai.
سو گوار لہجے میں پیڑ خشک پتوں سے کہہ
رہے ہیں پت جھڑ ہے دوریاں مقدر ہیں
So guwar lahje mein pehr khushk paton se keh,
Rahe hain pat jhar hai dooriyan maqaddar hai.
اتر کر شاخ سے اک زرد پتے نے
نئی رتوں کے لیے راستہ بنایا تھا
Utar kar shaakh se ek zard patay ne,
Nayi raaton ke liye raasta banaya tha.
خزاں رکھے گی درختوں کو بے ثمر کب تک
گٌزر ہی جاۓ گی یہ رٌت بھی حوصلہ رکھنا
Khizaan rakhegi darakhton ko be-samar kab tak,
Guzar hi jayegi yeh raat bhi hosla rakhna.
خزاں جب تک چلی جاتی نہیں ہے
چمن والوں کو نیند آتی نہیں ہے
Khizaan jab tak chali jaati nahin hai,
Chaman walon ko neend aati nahin hai.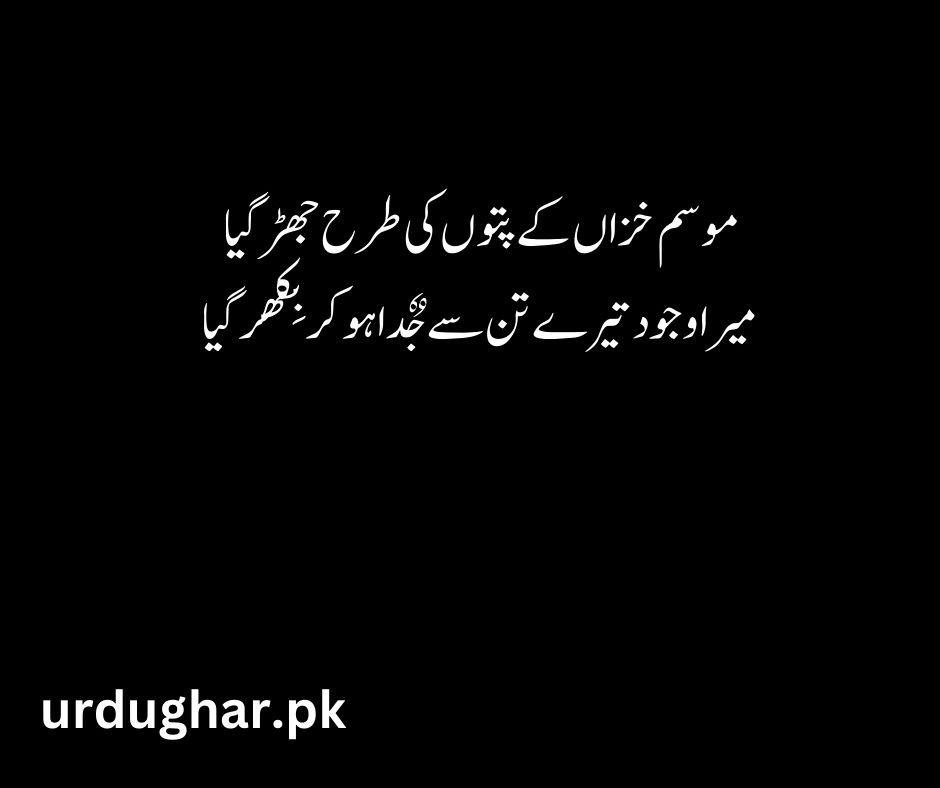 موسم خزاں کے پتوں کی طرح جھڑ گیا
میرا وجود تیرے تن سےجٌدا ہو کر بِکھر گیا
Mausam-e-khizaan ke paton ki tarah jhad gaya,
Mera wujood tere tan se juda ho kar bikhra gaya
Autumn season poetry in urdu
ہم نے دیکھا ہے خزاں میں بھی تیری آمد کے بعد
کونسا گٌل تھا کہ گٌلشن میں تروتازہ نہ تھا
Hum ne dekha hai khizaan mein bhi teri aamad ke baad,
Kaunsa gul tha ke gulshan mein tar-o-taza nahin tha.
خزاں کی رٌت میں اٌداس پتوں نے
مٌجھے یہ درس دِیا ہے زوال سب کو ہے
Khizaan ki raat mein udaas paton ne,
Mujhe yeh dars diya hai zawaal sab ko hai."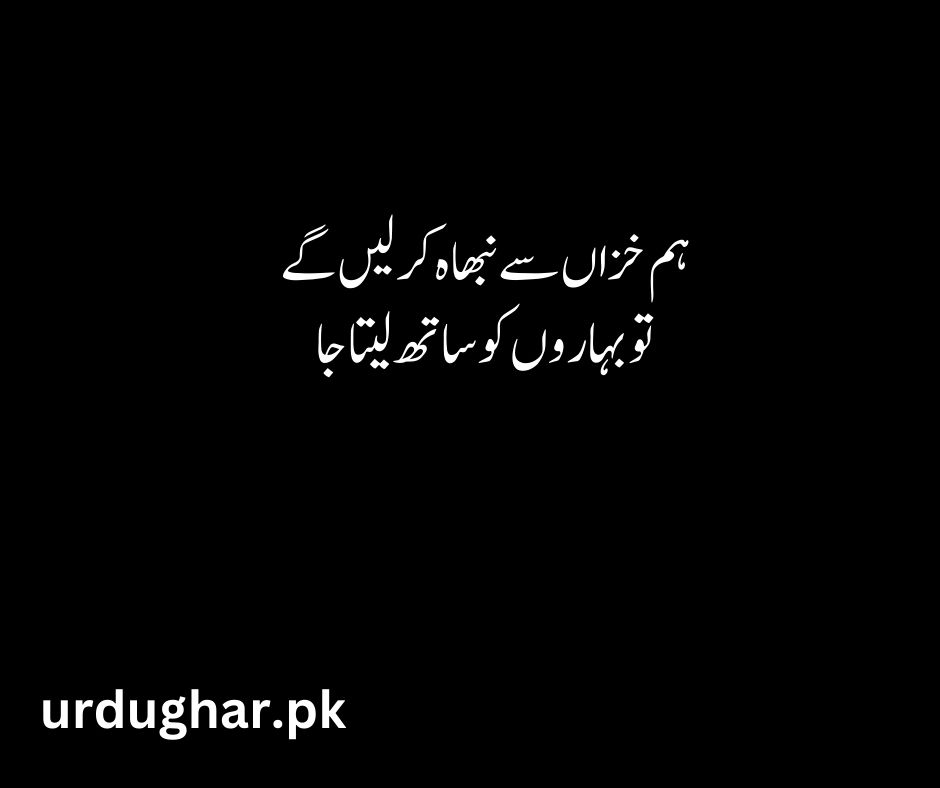 ہم خزاں سے نبھاہ کر لیں گے
تو بہاروں کو ساتھ لیتا جا
"Hum khizaan se nibaha kar lenge,
To bahaaron ko saath leeta ja.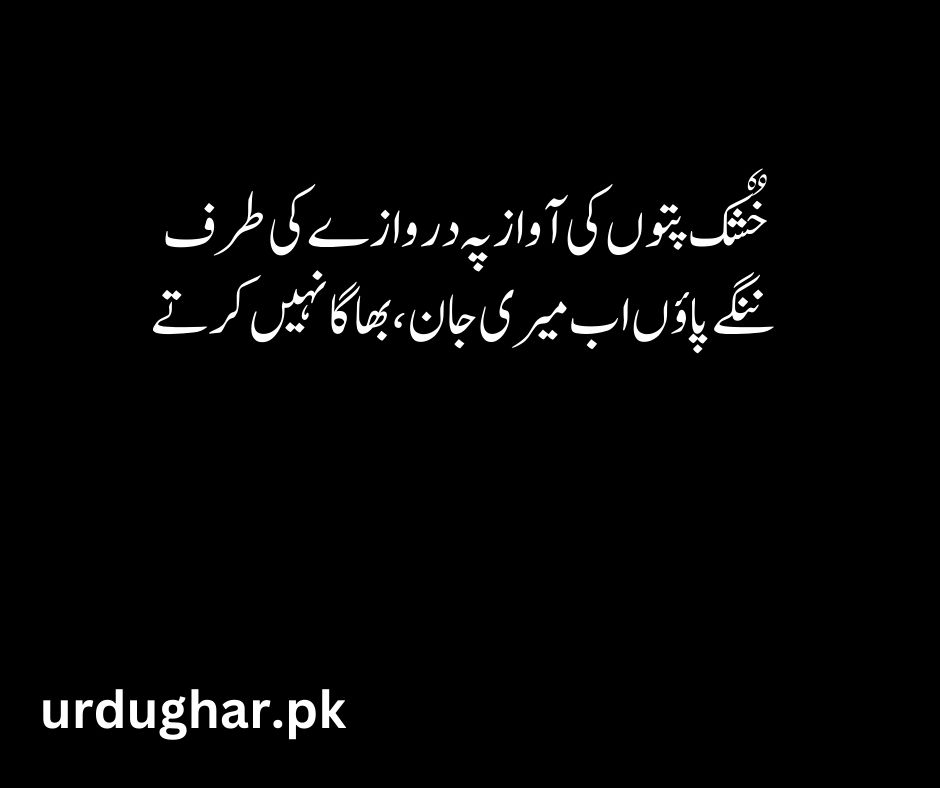 خٌشک پتوں کی آواز پہ دروازے کی طرف
ننگے پاؤں اب میری جان، بھاگا نہیں کرتے
Khushk paton ki aawaz pe darwaze ki taraf,
Nange paon ab meri jaan, bhaga nahin karte.
https://urdughar.pk/life-quotes-in-urdu/
دل کی چوٹوں نے کبھی چین سے رہنے نہ دیا
جب چلی سرد ہوا میں نے تجھے یاد کیا
Dil ki chhoton ne kabhi chain se rehne nahin diya,
Jab chali sard hawa mein ne tujhe yaad kiya.
خزاں کی دھوپ سے شکوہ فضول ہے صاحب
میں یوں بھی پھول تھا ، آکر مجھے بھی بکھرنا تھا
Khizaan ki dhoop se shikwa fazool hai sahib,
Mein yun bhi phool tha, aakar mujhe bhi bikhrna tha.
Autumn shayari in urdu
اب جو بکھرے تو بکحرنے کی شکایت کیسی
خشک پتوں کی ہواؤں سے رفاقت کیسی۔۔
Ab jo bikhray to bikhrne ki shikayat kaisi,
Khushk paton ki hawaon se rafaqat kaisi.
میں تجھے ڈھونڈنے یادوں کی کھلی سڑکوں پر
خشک پتوں کی طرح روز بکھر جاتی ہوں۔۔
Mein tujhe dhundne yaadon ki khuli sarakon par,
Khushk paton ki tarah roz bikhar jati hoon.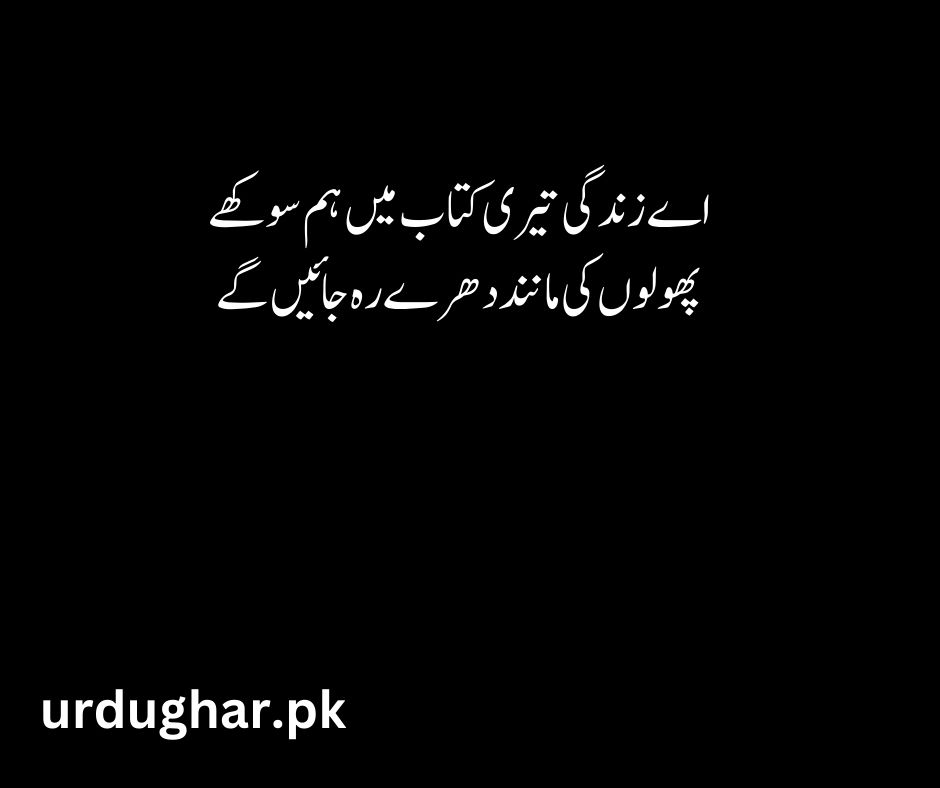 اے زندگی تیری کتاب میں ہم سوکھے
پھولوں کی مانند دھرے رہ جائیں گے
Aye zindagi, teri kitaab mein hum sukhe
phoolon ki tarah,dharray reh jayenge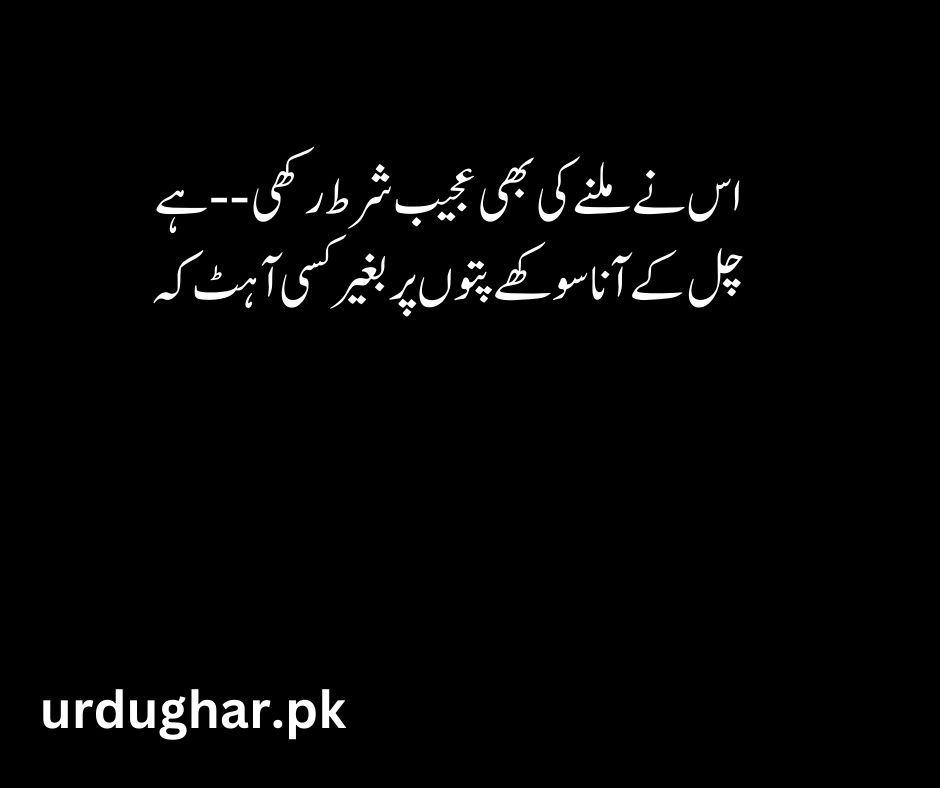 اس نے ملنے کی بھی عجیب شرط رکھی
ہے چل کے آنا سوکھے پتوں پر بغیر کسی آہٹ کہ
Is ne milne ki bhi ajeeb shart rakhi,
Hai chal ke aana, khushk paton par baghair kisi aahat ke."
https://urdughar.pk/dhokha-poetry-in-urdu/