Islamic quotes in urdu ak khubsurt,aur haseen o dilkash andaz mai tahreer keay gy hain. "Islami quotes ka khazana hamain roshni ki raah dikhaata hai aur hamari zindagi ko behtar banane ke liye hamain raahnumaai faraham karta hai.ak best andaz mai islamic quotes ko read karin aur agy apne friends mai share karin ta islam ka paigham sari duniya tak ponch saky.Ku k nakai ki raah dakhne wala bi naki krne waly ki tara hota hai.
میں نے کہا تھک چکا ہوں
جواب آیا: لا تقن طوا من رحمۃ اللہ
اللہ کی رحمت سے ناامید نہ ہو ہو
Main ne kaha thak chuka hoon.
Jawab aaya: 'La taqnatu min rahmatillah'
Allah ki rahmat se naumeed na ho.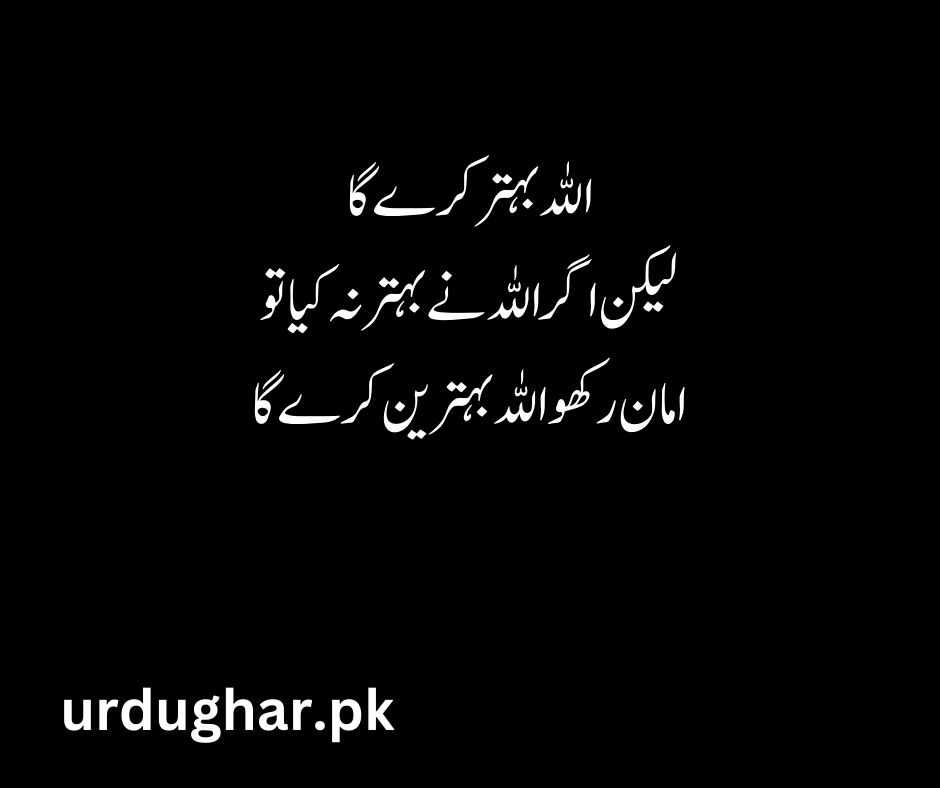 اللہ بہتر کرے گا
لیکن اگر اللہ نے بہتر نہ کیا تو
امان رکھو اللہ بہترین کرے گا
Allah behtar karega.
Lekin agar Allah ne behtar nahin kiya to,
Aman rakho, Allah behtareen karega.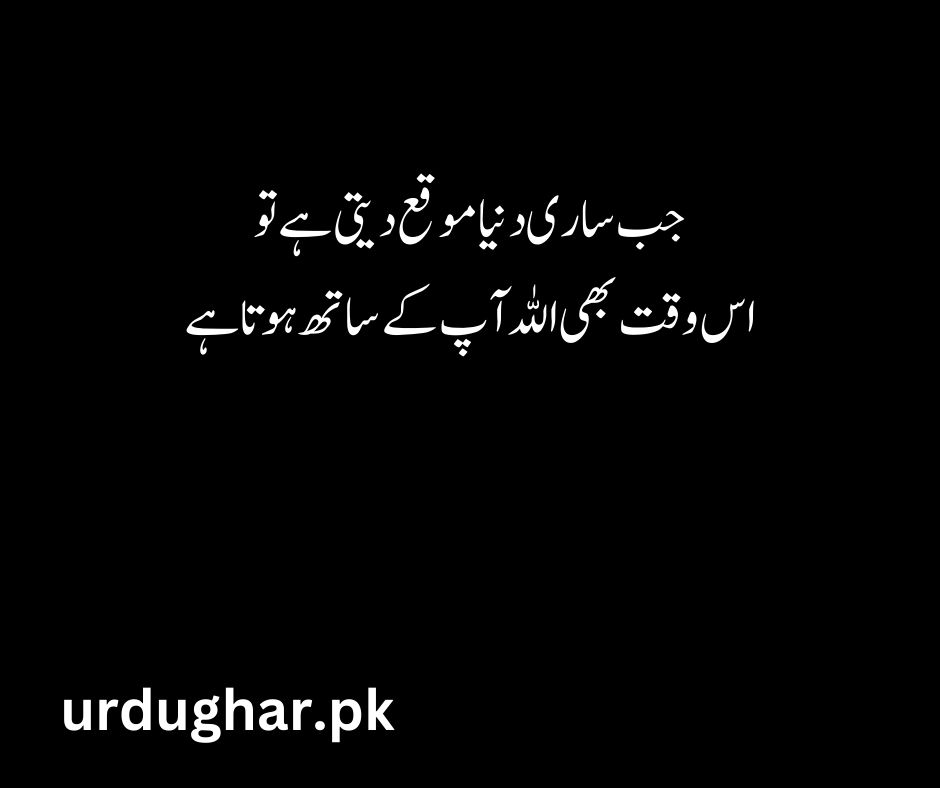 جب ساری دنیا موقع دیتی ہے تو
اس وقت بھی اللہ آپ کے ساتھ ہوتا ہے
Jab saari duniya mauqa deti hai to,
Us waqt bhi Allah aap ke saath hota hai.
جس کا بھروسہ اللہ ہو ان کی منزل کامیابی ہے
Jis ka bharosa Allah ho, un ki manzil kaamyaabi hai.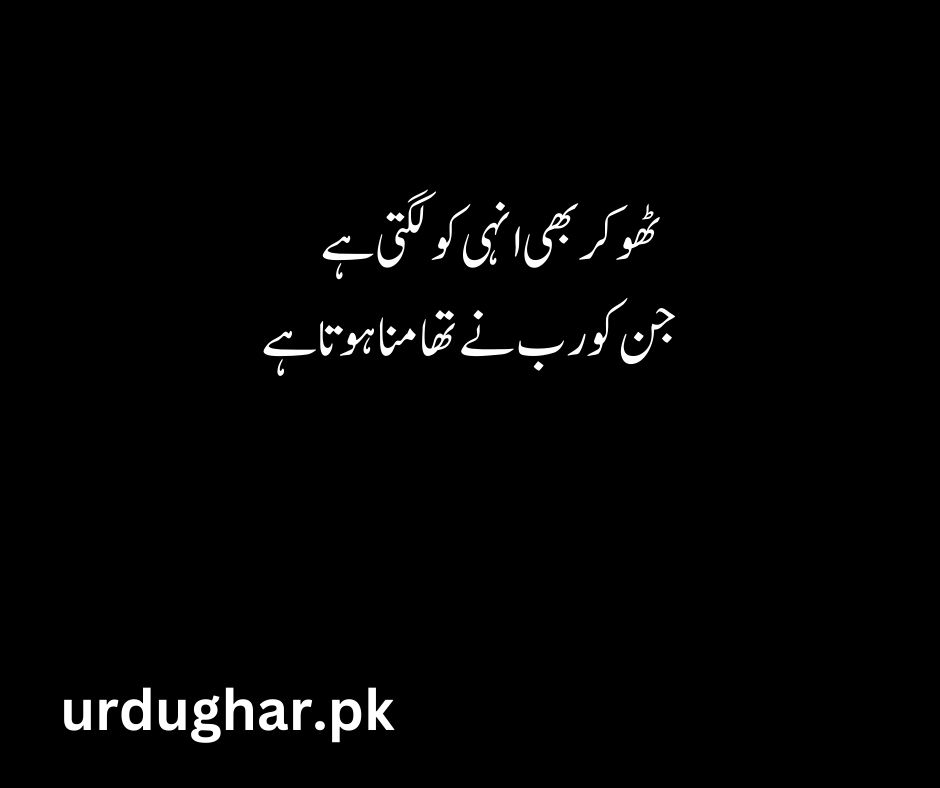 ٹھوکر بھی انہی کو لگتی ہے
جن کو رب نےتھامنا ہوتا ہے
Thokar bhi unhein lagti hai
Jin ko Rabb ne thaam liya hota hai.
Islamic quotes in urdu copy paste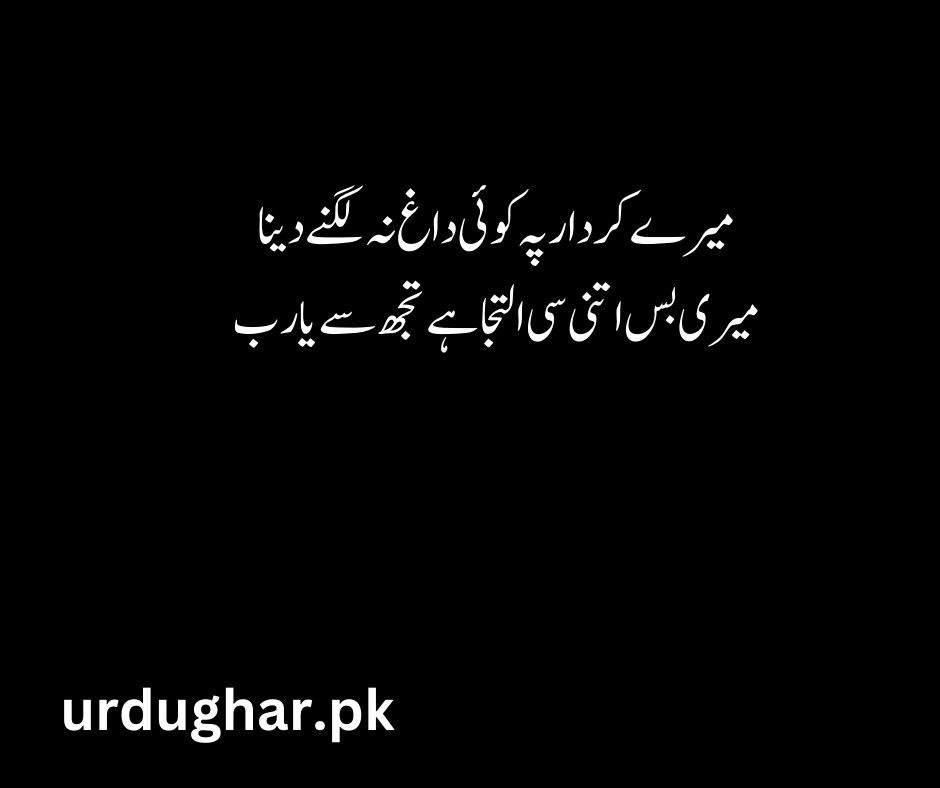 میرے کردار پہ کوئی داغ نہ لگنے دینا
میری بس اتنی سی التجا ہے تجھ سے یارب
Mere kirdar pe koi daagh nahin lagne dena,
Meri bas itni si iltija hai tujh se ya Rab.
لقد خلقن ا الانسان فی احسن تقویم
بے شک ہم نے آدمی کو اچھی صورت میں پیدا کیا
Laqad khalaqna al-insana fee ahsani taqwim,
Be shak hum ne aadmi ko achhi soorat mein paida kiya.
https://urdughar.pk/short-poetry-in-urdu/
https://urdughar.pk/bulleh-shah-poetry-in-urdu/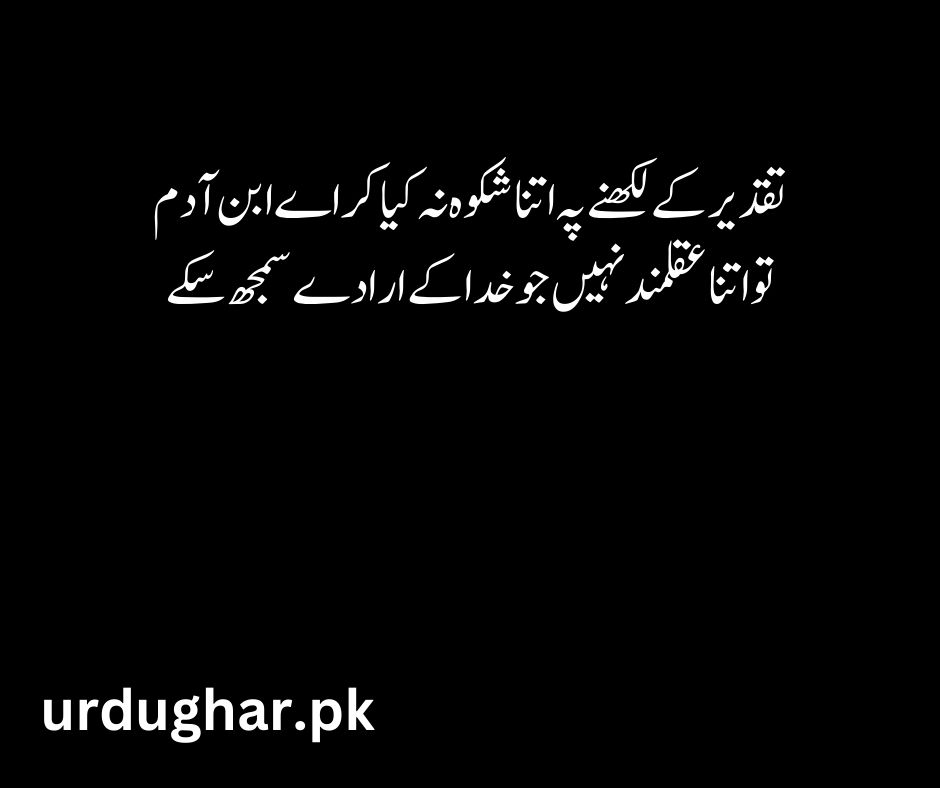 تقدیر کے لکھنے پہ اتنا شکوہ نہ کیا کر اے ابن آدم
تو اتنا عقلمند نہیں جو خدا کے ارادے سمجھ سکے
Taqdeer ke likhne pe itna shikwa na kiya kar ae ibn-e-adam,
Tu itna aqalmand nahin jo Khuda ke iraade samajh sake.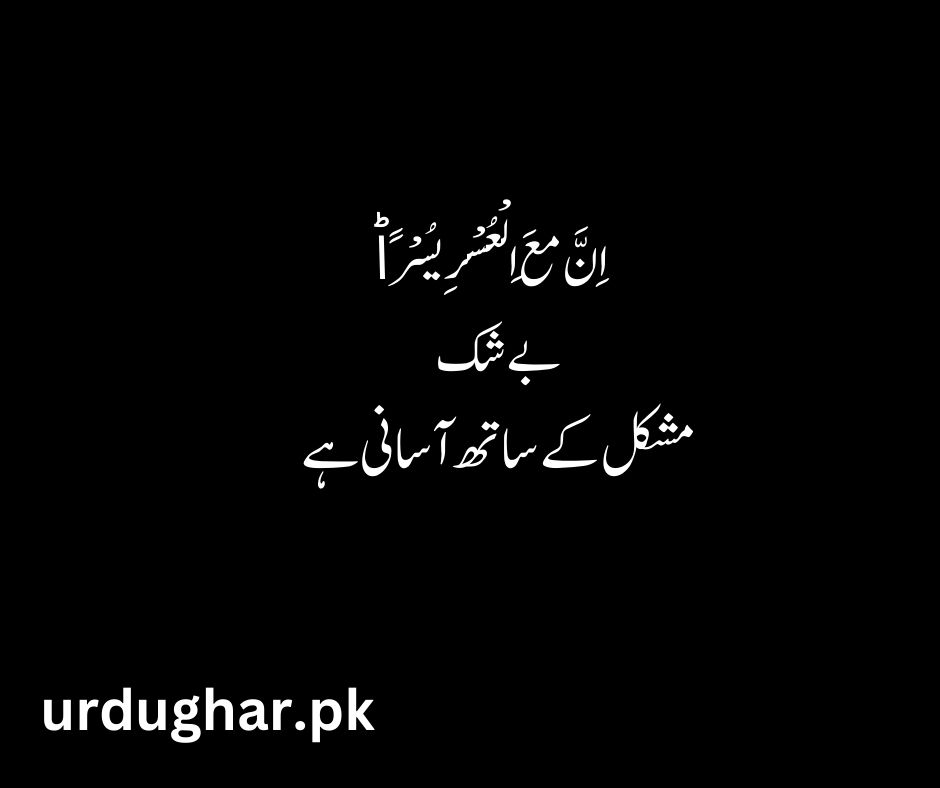 اِنَّ مَعَ الْعُسْرِ یُسْرًاؕ
بے شک
مشکل کے ساتھ آسانی ہے
'Inna ma'al usri yusra'
Be shak,
Mushkil ke saath aasani hai
جب واسطے اور راستے
اللہ سے جڑ جائیں تو
دل نہیں ٹوٹا کرتے
Jab wasitay aur raaste
Allah se jur jaayein to
Dil nahin toot'ta karte
دل اسی سے لگاؤ جس نے دل بنایا ہے
Dil usi se lagaao jis ne dil banaya hai."
Best islamic quotes in urdu for whatsapp
مسلمان وہ ہے جو اللہ کو مانے
مومن وہ ہے جو اللہ کی مانے
"Muslim woh hai jo Allah ko maane.
Momin woh hai jo Allah ki maane.
مومن کی زندگی میں کاش نہین ہوتا
صرف کن فیاکن پر یقین ہوتا ہے
Momin ki zindagi mein kaash nahin hota,
Sirf Qana'at par yaqeen hota hai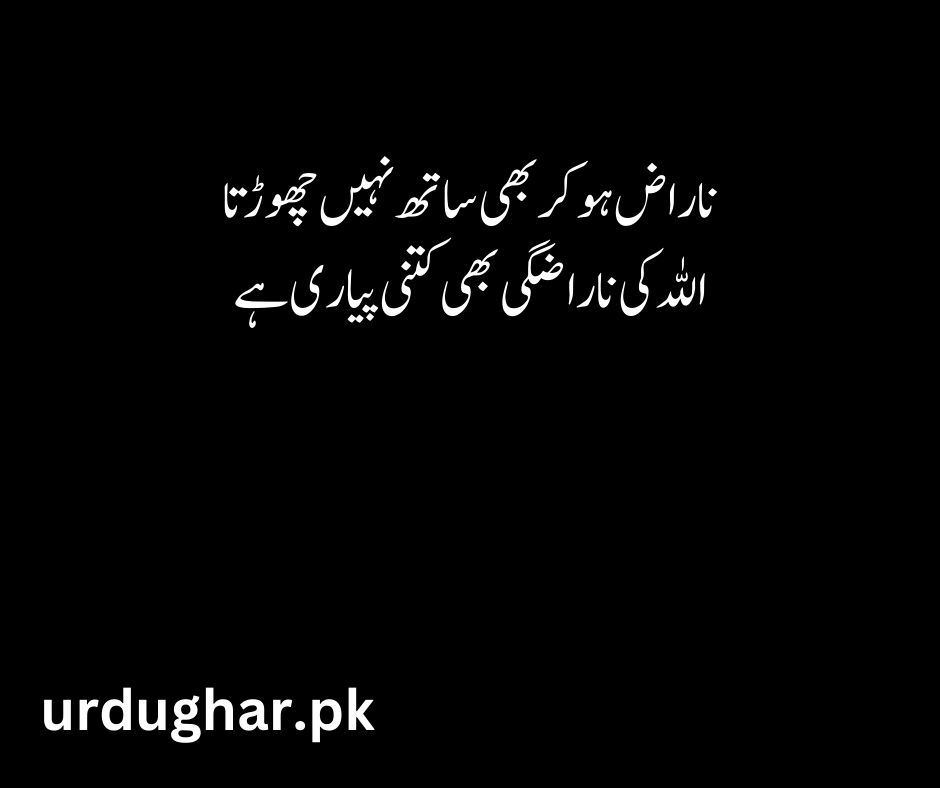 ناراض ہو کر بھی ساتھ نہیں چھوڑتا
اللہ کی ناراضگی بھی کتنی پیاری ہے
Naraz ho kar bhi saath nahin chhodta,
Allah ki narazgi bhi kitni pyaari hai.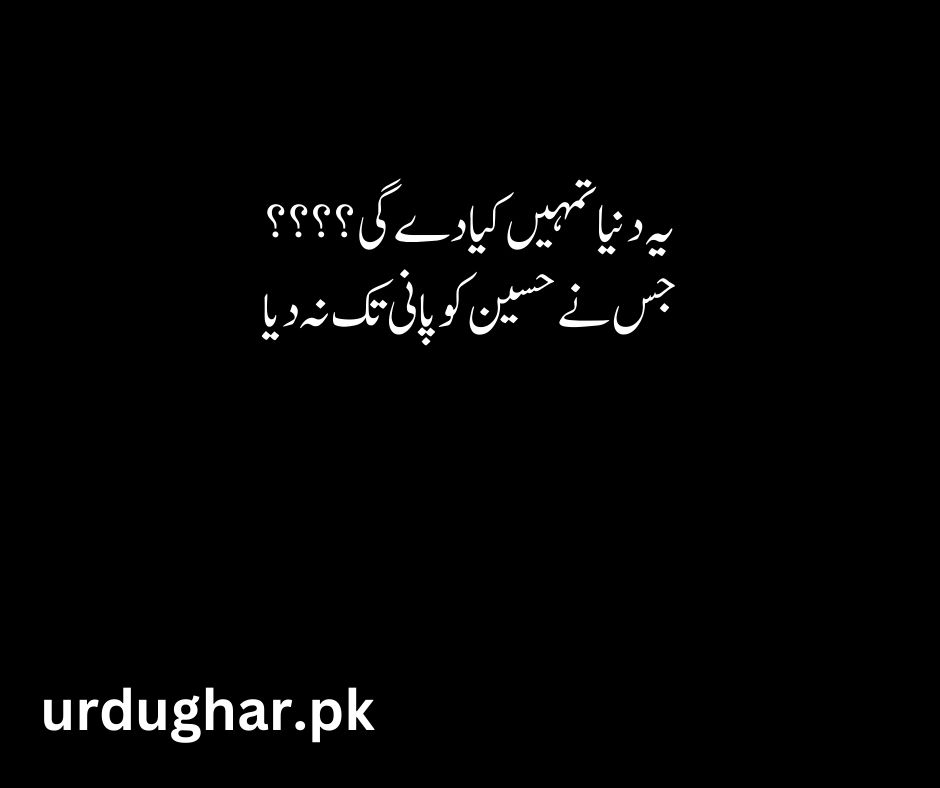 یہ دنیا تمہیں کیا دے گی ؟؟؟؟
جس نے حسین کو پانی تک نہ دیا
Yeh duniya tumhe kya degi?
Jis ne Hussain ko paani tak nahin diya.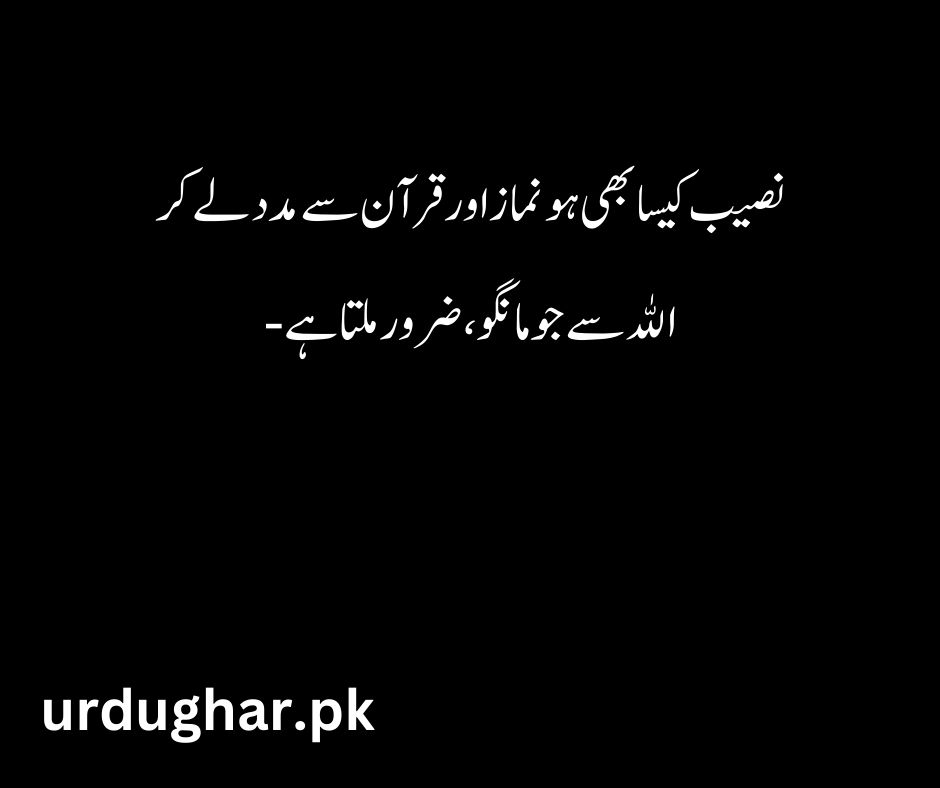 نصیب کیسا بھی ہونماز اور قرآن سے مدد لے کر
الله سے جو مانگو، ضرور ملتا ہے-
Naseeb kaisa bhi ho, namaaz aur Qur'an se madad lekar,
Allah se jo maango, zaroor milta hai.
جب ساری دنیا منہ پھیر لیتی ہے
تو اس وقت بھی الله آپکے ساتھ ہوتا ہے
Jab saari duniya moun pher leti hai,
To us waqt bhi Allah aapke saath hota hai.
Beautiful islamic status for whatsapp
اللہ جو کرتا ہے اچھے کے لیے کرتا ہے
تم نہیں جانتے مگر وہ خوب جانتا ہے
Allah jo karta hai, achhay ke liye karta hai,
Tum nahin jaante magar woh Khuda jaanta hai.
اللہ ماضی دیکھ کر نہیں تڑپ دیکھ کر عطا کرتا ہے
Allah maazi dekh kar nahin tarap dekh kar ata karta hai,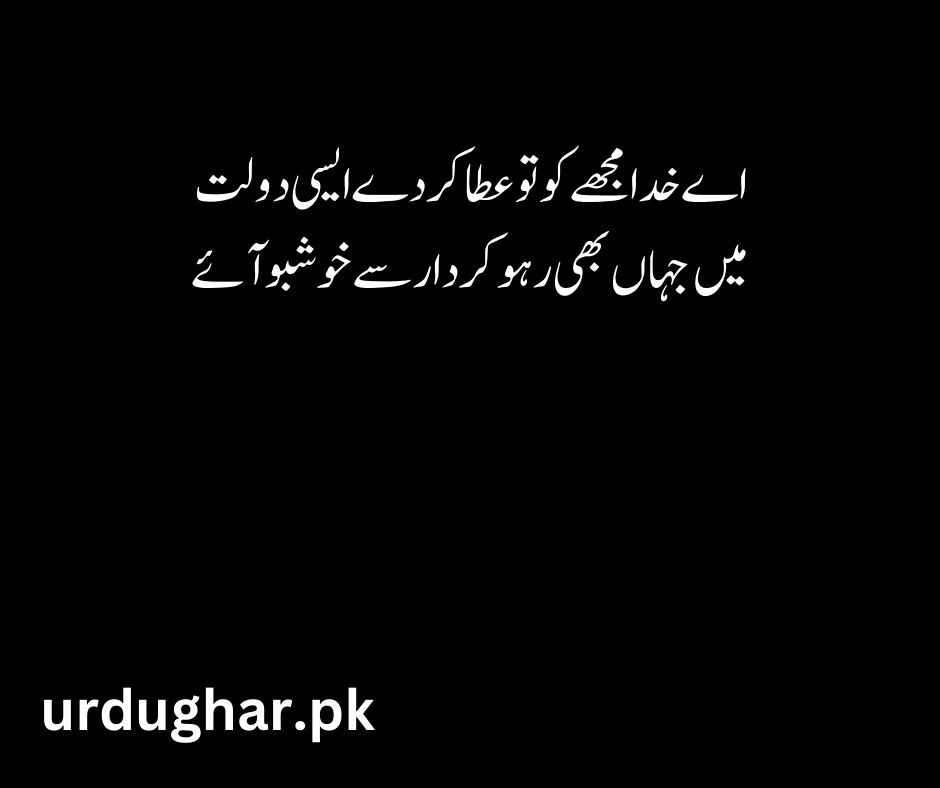 اے خدا مجھے کو تو عطا کر دے ایسی دولت
میں جہاں بھی رہو کردار سے خوشبو آئے
Ae Khuda mujhe koi aisi daulat ata kar de,
Main jahan bhi rahoon, karobar se khushboo aaye."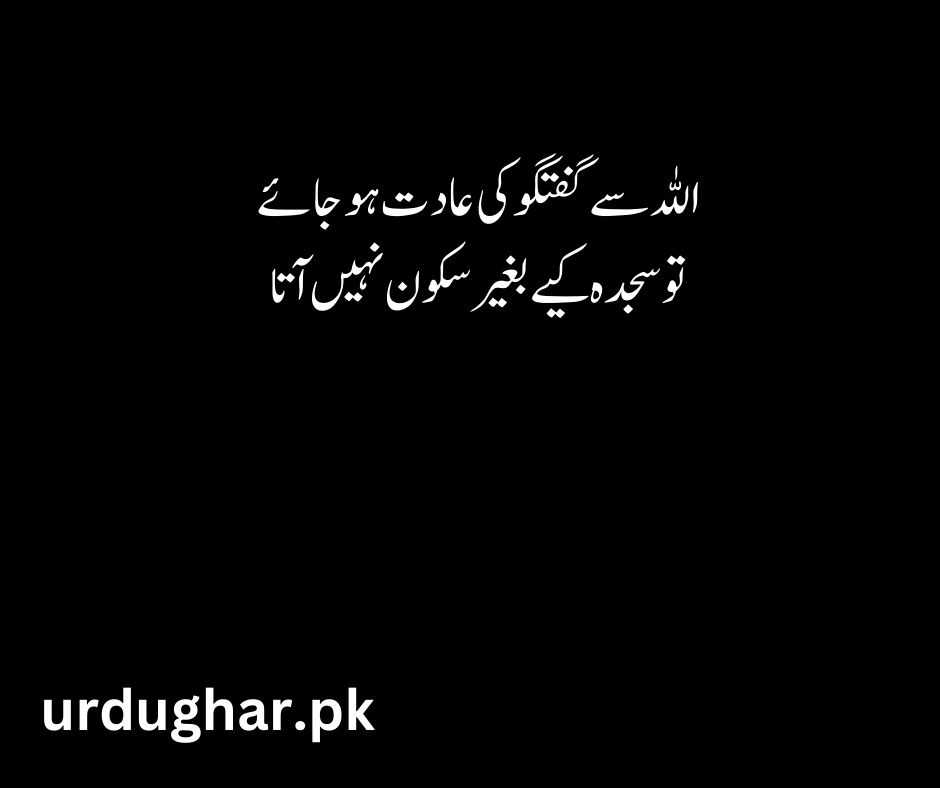 اللہ سے گفتگو کی عادت ہو جائے
تو سجدہ کیے بغیر سکون نہیں آتا
"Allah se guftagu ki aadat ho jaaye,
To sajda kiye baghair sukoon nahin aata.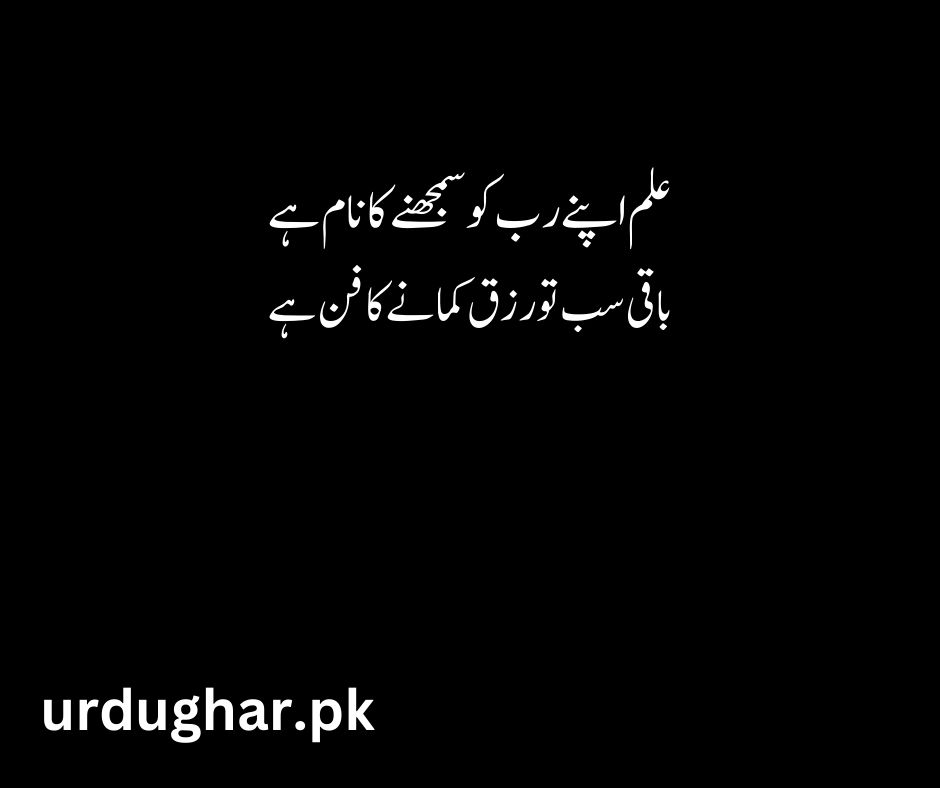 علم اپنے رب کو سمجھنے کا نام ہے
باقی سب تو رزق کمانے کا فن ہے
Ilm apne Rab ko samajhne ka naam hai,
Baaki sab to rozi kamaane ka fun hai.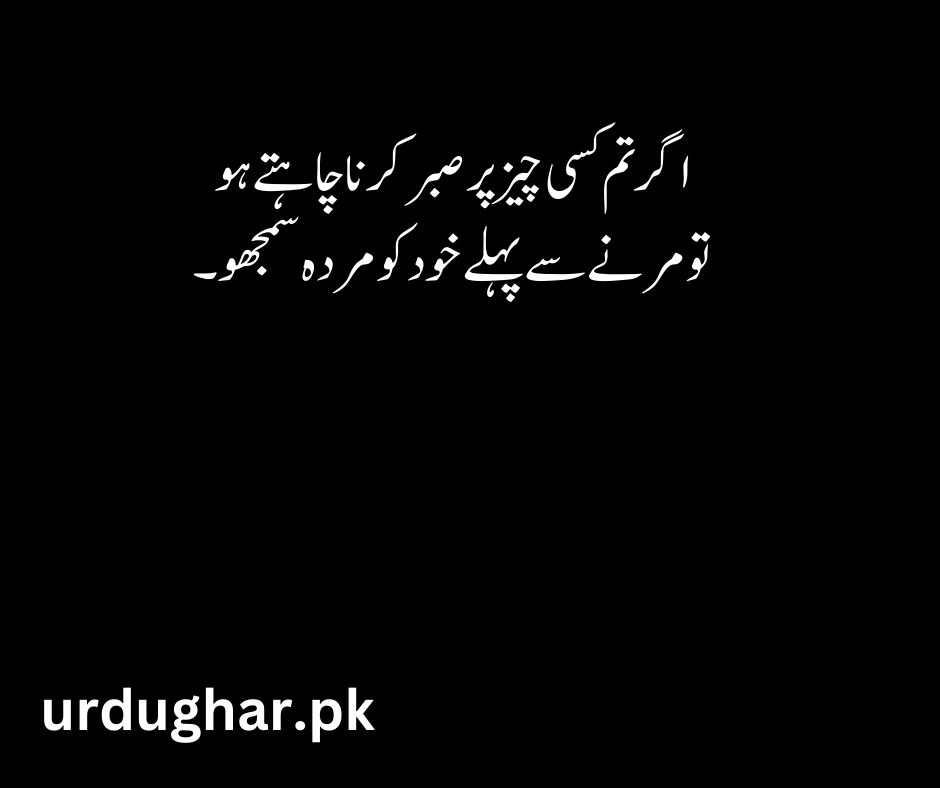 اگر تم کسی چیز پر صبر کرنا چاہتے ہو
تو مرنے سے پہلے خود کو مردہ سمجھو۔
Agar tum kisi cheez par sabr karna chahte ho,
To marnay se pehle khud ko murda samjho.
Heart touching islamic quotes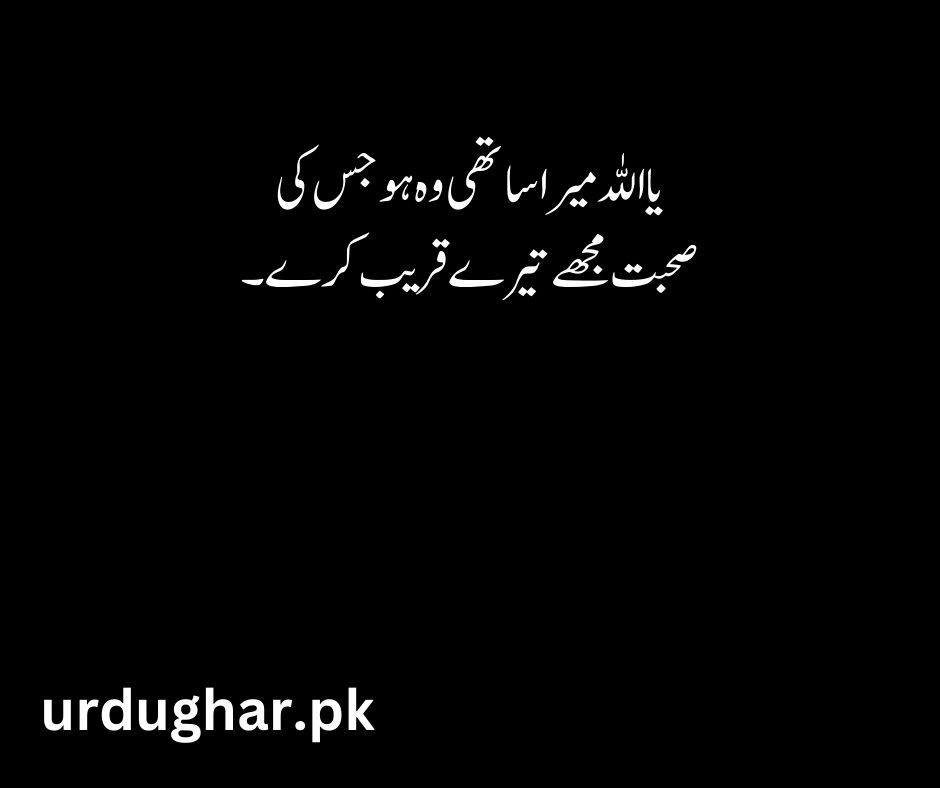 یا اللہ میرا ساتھی وہ ہو جس کی
صحبت مجھے تیرے قریب کرے۔
Ya Allah mera saathi woh ho jiska,
Suhbat mujhe tere qareeb karay.
کسی دوسرے کی لیے
اپنے حصے کی خوشیاں قربان
کر دینا یہ بھی انسانیت کی انتہاہے
Kisi dosray ke liye
apne hisay ki khushiyan qurbaan kar dena,
Yeh bhi insaniyat ki inteha hai.
گندگی دیکھنے والوں کی نظر میں ہوتی ہےورنہ کوڑا کرکٹ
چن نے والوں کوروٹی اُس میں بھی نظر آرہی ہوتی ہے
Gandagi dekhne walon ki nazar mein hoti hai,Warna kora cricket
chun ne walon ko roti us mein bhi nazar aati hai
تم جس کو ڈپریشن کہتے ہو وہ۔۔۔
تمہارے نماز نہ پڑھنے کا نتیجہ ہے
Tum jis ko depression kehte ho wo…
Tumhare namaz na parhne ka natija hai.
سوچ اگر خوبصورت ہو تو اللہ تعالی
تقدیریں بھی بدل دیتا ہے ۔۔۔
Soch agar khubsurat ho to Allah Ta'ala…
Taqaderain bhi badal deta hai.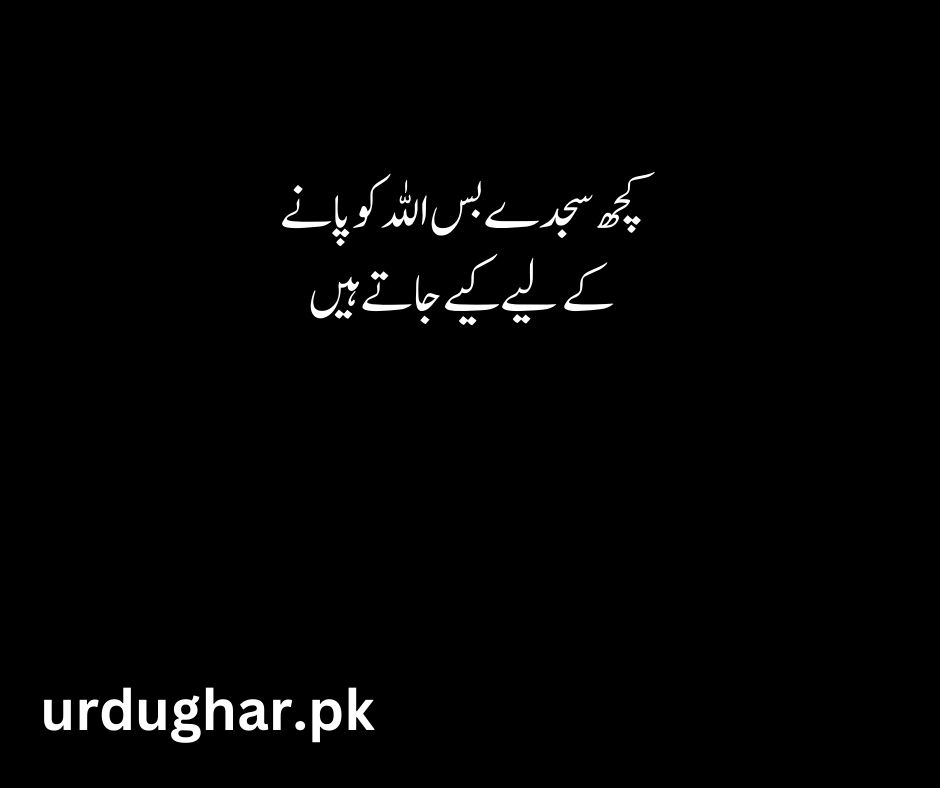 کچھ سجدے بس اللہ کو پانے
کے لیے کیے جاتے ہیں
Kuch sajday bas Allah ko pane
ke liye kiye jate hain.
اگر التجائیں رد ہونی ہوتی تو اللہ یہ ۔۔۔۔
کبھی نہ فرماتا کہ مجھ سے مانگو میں دوں گا
Agar at-tija'at (duayein) rad honi hoti to Allah yeh…
Kabhi nah farmaata ke mujh se mango, main doonga."
Read more;